The Panic Room Gravesend Locations
📍🔍 Hi there, fellow explorers! Over the past 7 years, The Panic Room has grown and spread across Gravesend, so it's crucial to know exactly where your adventure awaits you, whether it's an Escape Room, Axe Throwing, Laser Tag, or Mini Golf!
To make your visit as smooth and enjoyable as possible, we've compiled all the information you might need. But remember, our adventures extend beyond just the games.
Gravesend itself has plenty to offer, including an array of fantastic restaurants. If you're looking for recommendations, we'd be more than happy to share our favorites.
Simply head to our contact page, and we'll help make your visit to us and Gravesend a memorable one. We can't wait to welcome you on your next adventure! 🚀🎉
Important note – Our old 7 Berkley Crescent location is no longer occupied by us, so please make sure not to go there!
The Panic Room Gravesend 2:
Games – The Dollhouse, The Happy Institute, Wizard Of Oz & The Sacrifice
The Grove (Rear of Wing Lee)
Gravesend, Kent, DA12 1DP
WHAT 3 WORDS – ///battle.admits.brain
Google Map Link – https://goo.gl/maps/9uYepAWLyJdRvsHy7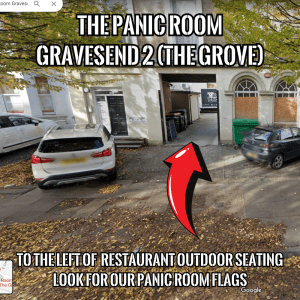 The Panic Room Gravesend 3:
Games – Battle Masters, Hell House, Riddled, LOOP, Enigma, Marvelous Magic School and The Don's Revenge
23a St Georges Centre (Entrance via Princes Street)
Gravesend, Kent, DA11 0TB
WHAT 3 WORDS – ///games.award.shrimp
Google Map Link – https://goo.gl/maps/XY7KY5P9XqbV4Eu68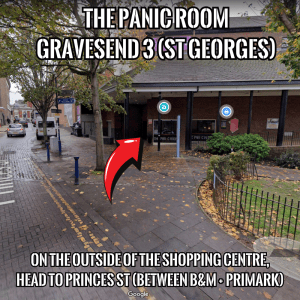 Don't Panic Gift & Game Store:
Games & Activities – Whodunit, Dead Man's Chest, CSI Xmas, Gold Rush, Board Game Cafe
35-36 Kempthorne Street, Inside St Georges Centre (Opposite Boots)
Gravesend, Kent, DA11 0TA
WHAT 3 WORDS – ///daisy.castle.darker
Google Map Link – https://goo.gl/maps/2LetKLeDJX5jYxE48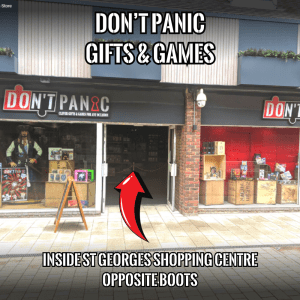 The Panic Room Family Entertainment Centre:
Games & Activities – Panic Stations Laser Tag, Mini Golf, Game Over Arcade, VAR BOX, 7 Sins & OVERLOAD, Private Karaoke
Inside St Georges Shopping Centre (next to Pure Gym)
5-10 New Road,
Gravesend, Kent, DA11 0AA
WHAT 3 WORDS – ///reach.tunes.cliff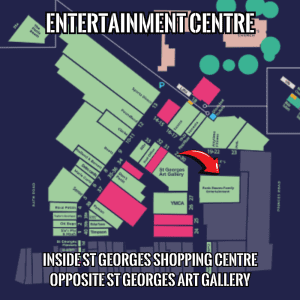 Gravesend Parking
For The Panic Room Gravesend locations 1 & 2 we recommend parking at:
Milton Place Car Park
Access via Ordnance Road – DA12 2RL
Google Map Link – https://goo.gl/maps/bKcDeLD69bTg2fXV8
Gurdwara Car Park
Khalsa Ave, Gravesend – DA12 1AG
Google Map Link – https://goo.gl/maps/CgDWfCSxJzDW6eey7
For The Panic Room Gravesend location 3, Don't Panic & Family Entertainment Centre we recommend parking at:

West Street Car Park
West Street – DA11 0DJ
Google Map Link – https://goo.gl/maps/vTUHcmmUM8ZijaQ49
St Georges Center Car Park
IMPORTANT NOTE – THE INDOOR CAR PARK IS CLOSED AT 7PM, IF YOUR CAR IS STILL INSIDE, THE SHOPPING CENTRE WILL NOT LET YOU OUT. WE THEREFORE RECOMMEND PARKING IN WEST STREET CAR PARK WHICH IS ALSO FREE AFTER 6PM
Church Street – DA11 0TA
Google Map Link – https://goo.gl/maps/LAEMsXCVd4E7LrvX6