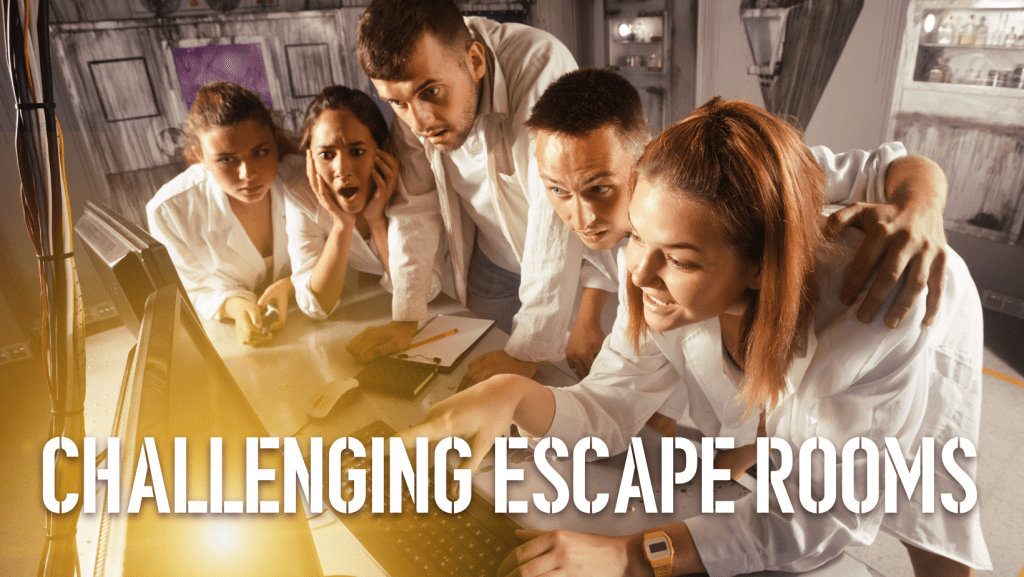 Looking for an Escape Room to challenge you? Every room is always a challenge but some rooms are just that bit more tough to beat.
What determines how difficult an Escape Room is you might ask?
Well, it comes down to the style of gameplay, the number of puzzles, and the difficulty of those puzzles. All mixed together we can see how many teams make it out or not.
No room is ever easy and will usually fit different teams experience and strengths.
From our collection of different Escape Rooms we have selected these 4 Escape Rooms as our most challenging.
Hell House – A massive 75 minute experience, there is a lot of ground to cover and a lot of puzzles to solve. As you explore the house, you will uncover room after room, above and below. Team work is essential for this room, communication is an absolute must especially for puzzles that rely on multiple people working on it in different places within the house.
Enigma – This is a game of 2 halves and certainly keeps you on your toes. It offers very different gameplay to a normal Escape Room where the first half is both puzzle and deduction based. Using skills of having a keen eye for detail you will need to one by one eliminate suspects to work out who the traitor is. Then once you have done that you will get further instructions to then have to save the day.
Time management and communication in this room are a must.
LOOP – This room is Escape Room's best-kept secret, it is definitely a tricky room but one that also works really well for a lot of teams and plays to their strengths. Time pressure is ever present as the story unravels itself throughout the game.
Time management and delegation are essential in this game.
The Happy Institute – Unlike any of our other games, The Happy Institute has a live actor. This alone will terrify and distract you from your goal. So you need to try and stay focussed on the task at hand as the game and story unravels before you. Keep your wits about you as you progress while always keeping an eye on what may be lurking around the corner.